Which retired superstar could have helped a West team in the Playoffs?
The NBA Playoffs has already begun. It's that time of the year again when 16 of the best basketball teams in the world go on a battle royale to determine which squad has the right to call themselves champions.
In the West, the postseason is going as expected, as a showdown between the Rockets and the Warriors for the conference finals has been set. Six other teams have tried so hard to push the two powerhouse contenders out of contention, only to be erased out of existence.
But what if somehow, these teams from the West found Dr. Strange's Eye of Agamotto, and used it to bargain to Dormammu, or probably David Stern or Adam Silver? What if they were given the chance to go back in time, add one of their all-time best players to their current rosters, and compete in this year's playoffs all over again? What could these legends have done to save their former teams from falling out of the postseason?
(READ: Which retired player could have helped an East team in the Playoffs?)
San Antonio Spurs (Eliminated by Warriors in Round 1, 4-1)
Of all the coaches, Pop might have one of the longest wishlists for a series-changing player. Who's it gonna be? David Robinson? Bruce Bowen? Michael Finley? Kawhi Leonard? What? Leonard isn't retired yet? My bad.
The point is, there were a lot of problems that San Antonio had to address when they faced Golden State: defense, offense, lack of star power. It's bad enough that the Dubs were a bunch of Monstars souped up by Michael's Secret Stuff. Leonard getting Thunderstruck made the situation worse (just ask Kevin Durant about it).
Who's the player that will best embody Pop's 'boring', winning brand of basketball? My best bet is Tim Duncan. He considers Timmy as a franchise-changing player, and he's gonna need him to have even the slimmest of chance against the Dubs.
Duncan, with his quiet demeanor, leadership and fundamental gaming, led San Antonio to a successful 19-season run which included five NBA titles. He was (and still is) the face of the Spurs' basketball culture of unselfish, team basketball. He bridged different eras of the team: from David Robinson to Timmy-Manu-Tony to Leonard (which will probably end soon).
San Antonio was in dire need of leadership and production in the floor. Outside of LaMarcus Aldridge, the Spurs are a bunch of declining vets unproven talents. Adding Timmy would give the Spurs an additional scoring punch in the paint, which is probably the weakest spot in the Warriors' defense.
But let's be honest, even Duncan probably won't be enough to defeat the monster that is Golden State. Not with Leonard on full sabbatical.
Portland Trailblazers (Eliminated by Pelicans in Round 1, 4-0)
Ah, a clean sheet. Even without DeMarcus Cousins, the Pelicans brought their brooms out and swept the Trailblazers in the first round. It was an ugly turn of events for Portland, who was toyed by Rajon Rondo and Anthony Davis in more ways than they can imagine.
How could Portland possibly stop a lean, mean, big man machine like The Brow? In their four-game series, he averaged 33 points on 57.6% shooting. Portland basically let him score about 30% of the Pelicans' scoring load.
The Trailblazers basically had no answer for Davis. Nurkic was too slow. Aminu was too small. No one had the skills and physical tools to stop Davis from wreaking havoc on offense.
All of that would change if Rasheed Wallace was with PDX. At 6-foot-10, Sheed was relatively agile compared to the Blazers' big men. His tough defense would be enough to at least slow down AD and limit his damage on the scoring column.
Moreover, that swag that he possessed would electrify the team and the Portland crowd. Heated arguments with Playoff Rondo? Re-enactment of Mirotic's fond memory with Bobby Portis? Shouting 'BALL DON'T LIE!' at the free throw shooters after a missed freebie? Sheed could do those things to wake up this Trailblazers team that looked shell-shocked after getting ambushed by the Boogie-less Pels.
Oklahoma City Thunder (Eliminated by Jazz in Round 1, 4-2)
Defense. Defense. Defense.
Andre Roberson was highly considered as the team's main guy on defense. With him down, The Thunder D went south, and it was evident against the Jazz. In their six-game series, OKC never had a defensive rating of less than 100, even in the games they won.
They need an anchor on the defensive end, and they may have to fly all the way to Seattle to find the best talent for the job: Gary Payton.
The 1996 Defensive Player of the Year can fill the guard spot left by Roberson. Yes, his wingspan is about 8 cm shorter than Roberson's but his play more than makes up for it. His 105 defensive rating in his 12 seasons as a Sonic would have ranked second in this team, only behind Russell Westbrook. Moreover, his three steals per game would have been the runaway best for the Thunder if he's included in the lineup.
Yes, they already have three bona fide superstars in this team. But adding one more won't harm them, right? Right?
Minnesota Timberwolves (Eliminated by Rockets in Round 1, 4-1)
What went wrong with the Wolves? Just about everything. KAT took three games before he finally showed up in the playoffs. Andrew Wiggins was pedestrian. Negative values rained down on Minny's plus/minus. The team's playoff inexperience showed up big time.
They needed someone who has the intensity and the experience to lead this team. Enter Kevin Garnett. He was Minnesota's best player in its eight-season playoff run from 1997 to 2004. He averaged 22.3 points, 13.4 rebounds, 5.0 assists, 1.9 blocks and 1.3 steals during the postseason stretch.
His presence would have eased off some defensive pressure received by Towns. And to be honest, the Twin Towers of KG and KAT would have easily been the best frountcourt duo of this postseason.
But what can bring this team to a whole new level is KG's leadership and tenacity n the floor. He never gives up on a play—a trait that Minny hopes can rub off the other Wolves (I'm looking at you, Wiggins). If Prime KG's included in this Minny team, I bet that they can go all the way. We can hear him say 'ANYTHING IS POSSIBLE!'.
But for Minnesota this time.
Utah Jazz (Eliminated by Rockets in Round 2, 4-1)
With Rubio and (later on) Exum down, the Jazz had no other point guard who could direct plays for them. They could have used one John Stockton to lead the team's offense.
In his 19-year career as a Jazz, he averaged 10.5 assists in the regular season and 10.1 assists in the playoffs. Take note, he played in the postseason in all of those 19 years. Talk about experience right there.
With Stockton, Donovan Mitchell could take the helm as the primary scoring option without worrying about being the primary playmaker, too. Rudy Gobert would have been a perfect specimen to recreate the Stockton and Malone pick-and-roll plays. In short, this Jazz team would have been perfect if the hall of fame point guard was in it.
New Orleans Pelicans Eliminated by Warriors in Round 2, 4-1)
Here's a surprise: the Pelicans shot better as a team in the three point line compared to the Golden State Warriors. In the five-game series, the Pels made 34 percent of their shot attempts as opposed to Dubs' 32 percent. Perhaps they could have set up more shots from beyond the arc to maximize that advantage.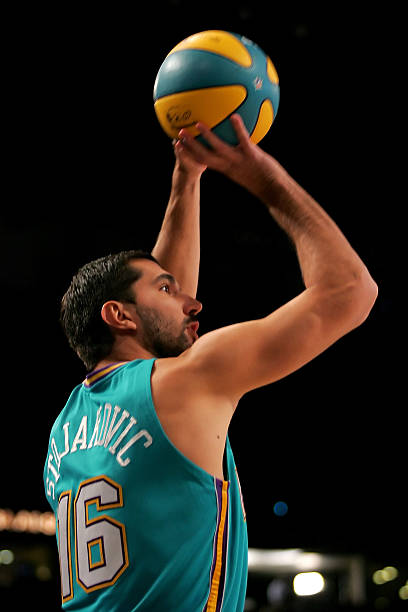 Peja Stojakovic would have been the perfect addition for this team. Best remembered as part of the Sacramento Kings, he stayed at New Orleans from 2006 to 2010. In his two postseason appearances for the Hornets, Peja shot 46 percent from the three-point area. That kind of shooting would demand defense to close out on him. With him and Nikola on the floor, Rondo and Davis would have more space to create plays off the drive or at the post.
And perhaps, a Peja/Nikola vs Splash Bros three-point shootout would have been an entertaining side story for the series.
Photos courtesy of Getty Images, SLAM Online, BlazersEdge.com, Boston Globe and Salt City Hoops, Stats courtesy of Basketball-Reference.com