PBA Philippine Cup 2018 semifinals preview: Four burning questions ahead the series matchups
The PBA semifinals starts tonight!
Ginebra, San Miguel, Magnolia and NLEX will now face off in two separate best-of-seven, hell-in-a-cell type of series to find out who will advance to the finals. What questions should these teams address in order to come out victorious after seven games (or less)?
San Miguel Beermen vs Barangay Ginebra San Miguel
GINEBRA: How can the Barangay stop The Kraken?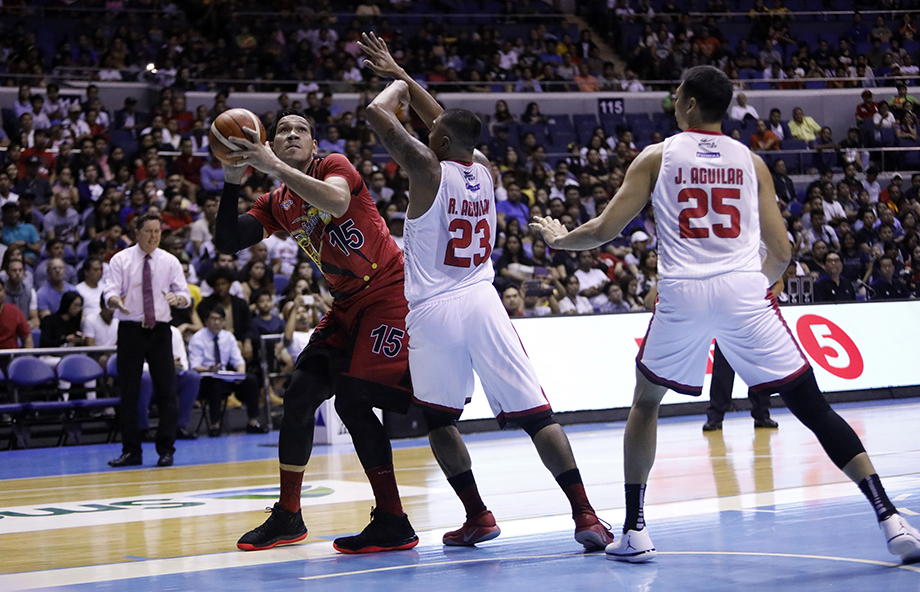 This is the problem that's been bugging the entire league, and Ginebra isn't exempted from this one. Seriously, how do you stop a seven-foot behemoth who happens to be the MVP for the past four PBA seasons?
Yes, SMB is a star-studded team. Yes, defeating the Beermen is not as simple as stopping June Mar Fajardo But Ginebra must start somewhere in order to defeat the defending champs. There's no better place (player) to start than the centerpiece of that team in Fajardo.
He is the consensus best big man in the PBA today for a reason. Through the elimination round, Fajardo averaged 22.8 points, 13.3 rebounds, 1.8 assists and 2.1 blocks per game. That's good for 23.5% of all the points scored, and 23.2% of all the rebounds grabbed by the Beermen in the 10 elimination games that June Mar has played. Basically, he shouldered a quarter of the scoring and rebounding of the team whenever he's around.
Anyone can argue that the Kraken is not the main issue for the Barangay. When SMB and Ginebra faced off in the elimination phase, the Barangay walked away with the win despite of Fajardo pouring in 33-11 for the game. And hey, Greg Slaughter wasn't even there.
But that's just one game. We are talking about a series here. It's a marathon where the Barangay should stop Fajardo for 30+ minutes per game at least four times. For Ginebra to have a chance to win, they must find a way to stop (or slow down) the MVP.
All eyes will now turn to the league's second and third best big men—Slaughter and Japeth Aguilar. In terms of size, they are any guys in Ginebra's lineup who can go toe-to-toe with the four-time MVP. If they will be overwhelmed by June Mar one-on-one, then maybe they can opt to double team on him.
But Coach Tim would probably rely on personnel outside Aguilar and Slaughter to help defend Fajardo. In the past, he had also employed unconventional ways of defending the opposing big men. In San Mig Coffee, the opposing big was defended in stretches by a smaller but more agile Marc Pingris (Prime Ping can defend ANYONE). We even saw Mark Barroca and Justin Melton provide some scrappy help defense inside.
Maybe Coach Tim can assign an agile wing, or even a pesky Scottie Thompson to provide help to Aguilar and/or Slaughter when needed.
Seriously, Ginebra should consider any defensive scheme which can bother Fajardo right now.
SAN MIGUEL: Who will lead the bench for the Beermen?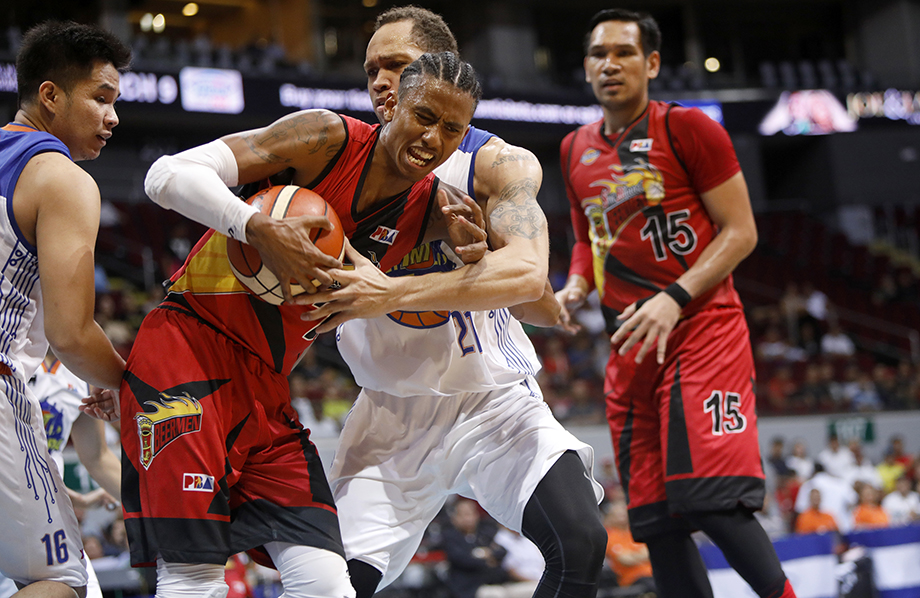 Okay, we all know by now how dominant Fajardo is in the PBA. But is that blessing also the team's curse? Having a superstar who can score a quarter of the team's total output is a luxury. But with Coach Tim controlling the opposing bench, expect Fajardo to be checked (or slowed down) sooner or later.
Moreover, there are four other players who averaged double digits per game aside from their MVP—Chris Ross, Alex Cabagnot, Marcio Lassiter, and Arwind Santos. Altogether, they carry about 90 percent of the total scoring load of the Beermen. This situation could be a problem for SMB, as having less guys who can be relied to score would mean less players for the opposing defense to focus on.
It's good if SSan Miguel's Fab Five can play together for 35 minutes every other day for the next four games, but that would burn these guys out in the long run. That's not an ideal situation for the Beermen, who looks to do the unprecedented four-peat in the Philippine Cup. Coach Leo should find a player who can chip in the scoring column off the bench.
Luckily for him, San Miguel's bench is deep on paper. While Matt Ganuelas-Rosser and Brian Heruela are frontrunners to lead the Beermen bench, there are plenty of other guys who can contribute for the San Miguel. Chico Lanete, Billy Mamaril and Ranidel de Ocampo—these guys can pass as a starter or a key role player for any PBA team not named San Miguel. Even Von Pessumal, David Semerad and Kieth Agovida can start proving their worth if they are given the green light to play.
Coach Leo's bench is deep on paper. It's just a matter of knowing when and how to utilize these guys to San Miguel's advantage. For the next few games, the Beermen's fate might be decided by unheralded heroes and 'magic bunots'.
NLEX Road Warriors vs. Magnolia Hotshots
NLEX: Can Kiefer Ravena and Alex Mallari bring their A game to the semis?
The Road Warriors introduced #ArangkadaNLEX this conference, and they lived up to their new battlecry. NLEX marched into the semifinals for the first time in franchise history, in large part due to the emergence of Kiefer Ravena.
It's only his first conference as a pro, but Ravena is already making a name for himself. It seems like his time overseas paid off, as he successfully transitioned into the point guard position. He has shown his versatility on the court by averaging 15.4 points, 5.3 assists, 3.4 rebounds and 1.9 steals per game through the elims.
But that's the case when BLEX faced different opponents every game. This won't be the situation in the seven-game semifinal series, where game plans will be focused, adjusted and readjusted with the aim of beating the opposing team. How will Kiefer Ravena respond to everything that will be thrown at him in this series?
He can't expect to repeat his 31-4-5 performance against the Hotshots during the elimination round without facing a tougher challenge, as the defense will focus on locking him down for the entire series.
Another key cog in this NLEX run is Alex Mallari, who's now at the perfect moment to exact revenge against his former team. He averaged 9.0 points, 3.8 rebounds and 1.6 assists per game in the elmination round, which are good numbers for any player. But in this series, NLEX could definitely use Alex's height advantage over Magnolia's quartet of guards (Paul Lee, Jio Jalalon, Mark Barroca and Justin Melton) to generate some points off the size mismatch. He could also be assigned to any one of these guards to neutralize Magnolia's assigned ball handler.
Ravena and Mallari are lethal threats on the open court, too. Expect these two to run the break when given the chance.
Coach Yeng Guiao has a lot of options that he can use for this series. Based on history, we can expect him to dig really deep on his bench throughout the series (Exhibit A: Jonathan Uyloan). But in the end, the Road Warriors have a set of reliable players that led them to their first semifinals stint. If they want to push history further, these players should continue to produce for the team, Ravena and Mallari included.
MAGNOLIA: Can the Hotshots sustain their balanced offense?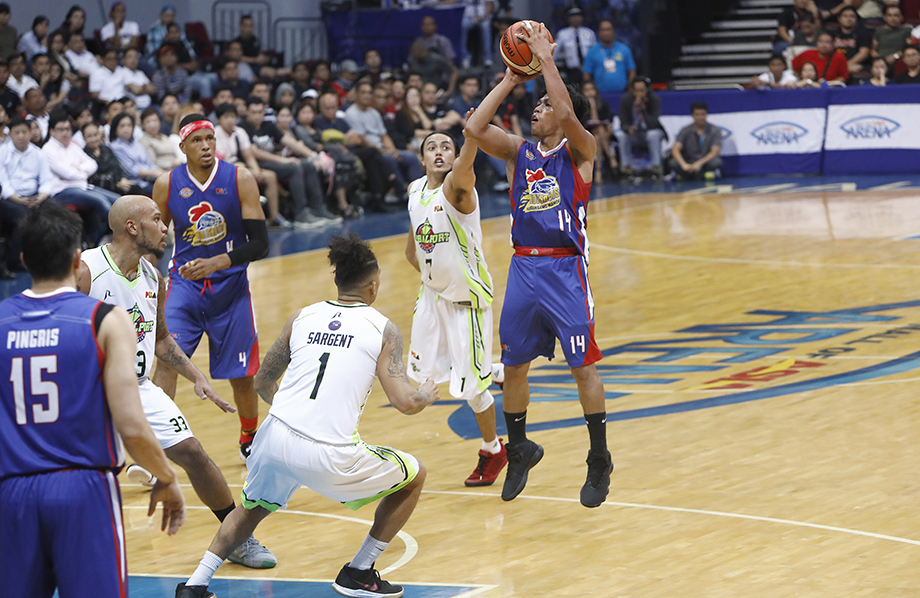 For some reason, Magnolia was branded as the Pambansang Manok. But the team has made a living by running an offense which shows some parallelisms to a Filipino custom: bayanihan.
If San Miguel relies on five players to score most of the team's points, Magnolia relies on a more balanced approach in terms of scoring. Eleven players who played at least eight games this conference averaged four or more points per game. Four of those players scored about eight points per game (Rome de la Rosa, Aldrech Ramos, Jio Jalalon, Justin Melton), while three scored in double digits (Mark Barroca, Ian Sangalang, Paul Lee).
Having so much options to choose from is a good problem for Coach Chito Victolero. It's just a matter of maintaining the trust within the system, and it all starts on scoring efficiency. In the eight games that they won, the Hotshots converted 44 percent of their field goal attempts. In contrast, they only shot 37 percent in the three losses they had. They have won all six games where they shot at least 40 percent on the field, but lost three out of the five games where they shot less.
Magnolia's offense is much better when they move the ball. The Hotshots won all four games where the team had 20 or more assists, while lost three out of seven where they had less.
It's time to prove that having 'kanya-kanya' moments is a thing of the past for this team. If the Hotshots want to advance to the finals, they have to stick to that bayanihan offense which gave them tons of success this conference.
Stats and Photos courtesy of PBA.ph