PBA FIGHT! Gabe Norwood Picks Two Best MMA Prospects from PBA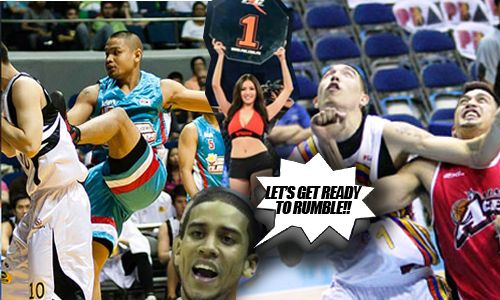 After notching a victory against the Air 21 Express yesterday in Tubod, Lanao Del Norte, the Rain Or Shine Elasto Painters were in good spirits. After team dinner, many of Coach Yeng Guiao's boys were gathered in the dining hall, joking around, playing cards, and yes, watching PXC 34.
As the main event between Ale Cali and Erwin Tagle was going on, JR Quinahan and Beau Belga, interestingly enough, kept pointing out conditioning to be Tagle's biggest hurdle in the title bout. Why is it interesting that they said that? I'm sure you've figured it out. I don't want to say. I accidentally told them where I live. Let's move on.
As Gabe Norwood made himself coffee while having his eyes go back and forth between the concoction, the TV and Larry Rodriguez's pusoy hand, I remembered something Petron rookie Alex Mallari tweeted that same night:
Sorry who do u think would be the best MMA fighter from PBA

— alex (@alex_mallari) November 17, 2012
So I forwarded the question to Gabe and he instinctively pointed with his lips towards Extra Rice Inc., Belga and Quinahan (this manner of pointing using one's lips added to Norwood's pusoy skills should be all the evidence that's needed if ever anyone questions his unmistakeable Pinoy-ness).
"Aside those two, of course!" I said.
He thought for a second before convincingly answering, "Ogie Menor. Yeah. Menor for sure."
"Against who?"
"Man, that's tough. But probably Cliff Hodge. Yeah. I think Cliff can take a punch better than anyone."
I'd pay to see that. Ogie Menor. Cliff Hodge. 5 rounds, MMA rules (We can add this to Cliff Hodge's other Sports Options). With Gabe as the ref and Abby Poblador as, well, Abby Poblador, because honestly she makes everything better. See?
Who wins?
In case you're wondering, Gabe picked the Meralco rookie, "It'd be close. But I'd give it to Cliff just cos he has the reach advantage."
You agree?
Photos c/o Interaktv, meralcobolts.blogspot.com