The Jason Ballesteros Redemption Project
It was a normal Sunday night.
I was just dozing off the sofa when I heard my dad shout, as if he was excited. That only happens whenever he watches a close basketball game. I became curious, so I ran to where he was to see what's happening. It turned out I was right.
It was the final minute of the Ginebra-Meralco game. It was a must-win game for the Bolts, as a loss would mean outright elimination for them. Down by one, Off a timeout, the Bolts weren't able to get a wide open look. Reynell Hugnatan tried a floater, but missed everything. Chris Newsome got the board and, with the shot clock winding down, tried to score off a contested hook.
He missed. Reynel got his hand on the ball and tapped it into his teammate's direction. Then, an unlikely hero grabbed the rebound and scored the putback to give the lead to the Bolts.
It was Jason Ballesteros.
In Meralco's next offensive sequence, Jason had to earn his points from the charity stripe. He made the first, but missed the second. It was enough to raise the lead to two.
It was Ginebra's turn to burn a timeout. The Barangay had plenty of time left to tie the game or even take the lead.  But the stingy Meralco defense forced them to take whatever shot was available to them. As the circumstance would have it, Japeth took a last-second three-point attempt.
Japeth did it once before. A few years back, Ginebra managed to steal a game away from the Bolts with a late-game three pointer by Japeth. He was in a familiar situation.
So Japeth attempted a three—but not without being challenged by someone from Meralco. It was Jason again. With his arms outstretched, he bothered the possible game winner with everything that's left of him. It was him who gave the lead to the Bolts, so it's only fitting that he's the one to finish the job on defense.
The ball went in mid-air. It was a long delay before the ball reached the rim, especially for Jason, whose career game was on the brink of turning into a losing effort. Sure, it was a long wait, but it didn't measure up to what he had to endure for his shot at redemption.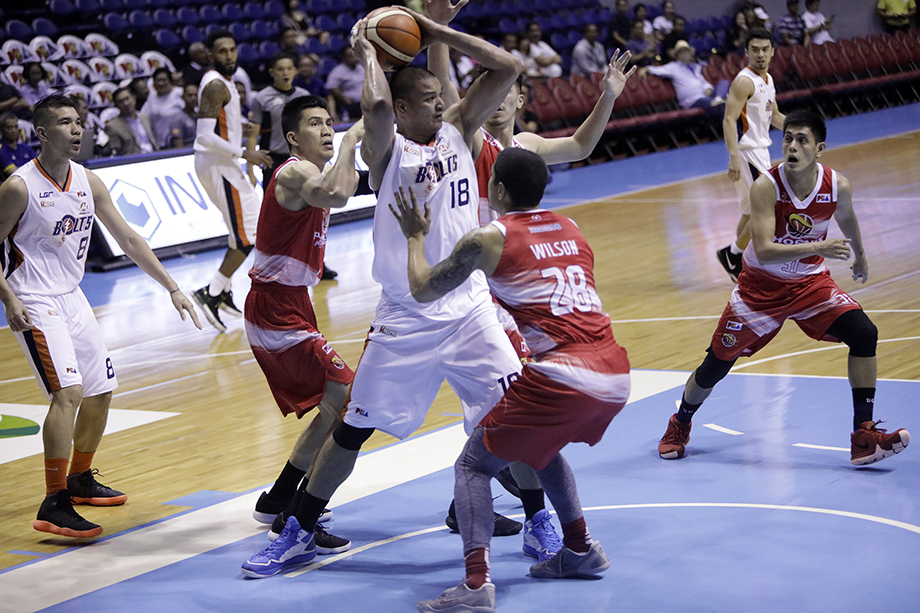 Jason was known in college as a monster on the defensive end. While in San Sebastian, he anchored the Stags' defense as the starting center, winning two Defensive Player of the Year awards and a Mythical Team selection in the process.
After his successful NCAA stint, Jason was selected to be part of the original Gilas lineup—a group of amateurs who went from college straight to the national team. He has served as a Gilas mainstay from 2009 to 2011, playing in international tournaments with the likes of Marcio Lassiter, Mark Barroca, and Chris Tiu. which was probably enough to raise his stock in the draft.
Jason's Gilas experience was enough to raise his draft stock. After serving the national team, he was selected seventh overall by the Meralco Bolts. The future looked so bright for him.
But his struggles only grew ever since.
He saw limited action with the Bolts before eventually finding his way to Barako Bull a season later. In nine games with the Energy, Jason only averaged 1.9 points and 3.9 rebounds in 10.3 minutes of play, far from what's expected from a national player.
Unable to impress any PBA team, he played for Jumbo Plastic Linoleum at the PBA D-League. He would post double-digit points and rebounds on a regular basis. He was a dominant force, as he was an integral part of his team's run to a semi-finals finish that conference.
But there's this feeling that Jason didn't belong there. He's more than just a second-tier league player. He belonged to the big leagues. San Miguel could've seen it, too, as they signed Jason in 2014.
But still, frustrations continued to pile up, as Jason didn't suit up in any of the Beermen's games that year. He was waived before the start of the Governor's Cup. He found his way to Meralco, where he played his only three games of the season. He only averaged 3.7 points and 2.3 rebounds in 12 minutes of play per game.
He was eventually was traded to the Blackwater Elite in the 14-15 season, then to Kia in the middle of the 15-16 season. It was the perfect setup for Jason to redeem himself, as these teams were still looking to be competitive in the league.
But in his three-season stints with Blackwater and Kia, Jason only averaged 2.2 points and 2.5 rebounds per game. He certainly looked like he missed the break that he needed all along with these expansion teams. The once promising center of the Gilas program became a washed up player in the league, only worthy of the roster spots outside the team's rotation.
But as bleak as his future was looking, Jason found his way to Meralco once again—his third tour with the Bolts. He's back with the same team that drafted him in 2011, and the same team that signed him when he was released by San Miguel in 2014.
As the saying goes, third time's a charm. Jason took that by heart. Through eight games, he averaged 2.4 points and 6 rebounds per game in 18.6 minutes of play. Although he improved significantly in the rebounding department, his stats were not eye-popping.
FInally, he had what appeared to be his breakout game on Valentine's day. He went scoreless, but he grabbed 12 boards in his 23 minutes of action against Phoenix—his career high back then.
Jason built on that momentum and rode that to this game versus Ginebra.
Japeth took the three-point attempt his outstretched arms. The ball stayed in mid-air for about three seconds.
Two.
One.
Japeth missed. Ball was loose until the time expired. Meralco would live to fight another day in the Philippine Cup. They were saved by an unlikely hero in Jason Ballesteros, who had seven points and 17 rebounds in his 31 minutes of game time.
And in the process, Jason saved himself. He proved that he's more than just a bygone, that he still belongs to the league. All these years of revolving doors and missed chances has led to this moment.
But this doesn't feel like it's the end, but a beginning of Jason's quest to rise from being out of the PBA to finally making an impact in the league.
If it isn't, at least I'll have a memory of Jason's extraordinary game to keep on that normal Sunday night.
Stats from HumbleBola.com and PBA.ph, photos from PBA.ph