Hitting the high notes: Donovan Mitchell jazzes his way up to NBA stardom
Having a high draft pick has always been a coveted advantage for any NBA franchise. Some teams take extreme measures just to have a chance to get a top 5 pick. Boston overhauled its veteran-laden team in 2013 for several of Brooklyn's first rounders. Minnesota gave up Kevin Love for 2014 first overall Andrew Wiggins (alright, the 2013 first overall, too). And who could forget the infamous tanking of Philadelphia called The Process? All of these were done to increase the odds of winning high in the lottery.
But going high in the draft is only half of the job. Choosing the right prospect, no matter how high or low the pick, can spell the difference between going home with diamonds and walking away with shards of glass. And every year, those teams possessing the high picks are at risk of ending up with a bust.
The Darkos, Kwames and Bennetts are sometimes included in any rookie class—guys who are hyped way above their skills, or looks promising enough to fool teams that they're the real deal. Simply put, they just can't live up to the expectations that are set to them early in their careers.
But for those teams who are selectting outside the top 5, maybe top 10, there are always the sleepers who can give more than what they are perceived for—the draft steals.
More often than not, there are  players who are worth more than their draft positions. John Stockton (16th) from '84 and Karl Malone (13th) from '85. Kobe Bryant (13th) and Steve Nash (15th) from '96. Manu Ginobili (57th) from '99 and Tony Parker from (28th) '01.  DeAndre Jordan (35th) from '08. Kawhi Leonard (15th) from '11. Draymond Green (35th) from '12. The list goes on and on.
Sometimes, one of these superstar-caliber players just falls into the hands of teams with middle-to-late round draft picks.
And for Utah, there was no greater blessing than having a potential superstar fall into their hands.
Just this offseason, the Jazz lost Gordon Hayward, the team's best player, to Boston via free agency. Problems rose for Utah without the team's superstar while getting nothing in return. It would take someone special to fill the void left by Hayward.
Iso Joe is only a glimpse of his old self. Rodney Hood might be more suited as a beta dog on offense. Rudy Gobert is more of a defensive juggernaut than an offensive weapon. Ricky Rubio is more of a playmaker than a scorer (and his three-point shooting still sucks). Joe Ingles and Derrick Favors are reliable bigs, but they can't take over games on a consistent basis. Utah lacks that alpha dog who can lead their offense night in and night out.
Enter Donovan Mitchell.
At 6-foot-3, Mitchell is a unique specimen at the guard position. His height makes him a lot smaller compared to the average shooting guard in the league. However, his 6-foot-11 wingspan and his athletic gifts make it easy to think of him as a defensive stopper.
But it turns out that his skills are best suited on the other side of the court.
The 13th overall pick in the 2017 NBA Draft is quickly proving that the Jazz made a great decision to acquire him. After a sloppy October (32.9 FG%, 28.6 3P%), he turned the tide to close 2017 on a high note (45.8 FG%, 36.8 3P%).
Now, through 38 games (30 starts), Mitchell has averaged team-high 18.5 points, 3.4 assists, 3.3 rebounds and 1.5 steals in 31.2 minutes of play. His 28.4 percent usage rate is the highest among Jazz players.
It's amazing how the Jazz handed the team's offense over to Donovan right away, but it didn't happen without a good reason. The team is better offensively when he's playing. The Jazz has a 107.8 offensive rating (ORtg) with him on the floor, as opposed to 104.6 without him.
Moreover, based on the net differential in ORtg, the Jazz outplays the opponents on offense with Donovan (+0.8), but gets outplayed with him off the court (-1.6).
With his outstanding play as of late, Mitchell was recognized as Western conference's rookie of the month for December.
Anyone can argue that Mitchell is not just one of the best rookies this year, but also the best player in Utah's lineup. He's building his case for the Rookie of the Year award through the most important aspect of basketball—scoring buckets.
About 30 percent of Mitchell's field goal attempts come within three feet from the basket. He is capable of scoring off the drive and in traffic. He uses his explosive first step to blow by defenders, and athleticism to score layups and dunks, even in the toughest situations. So far, he makes 64.5 percent of his shots near the basket.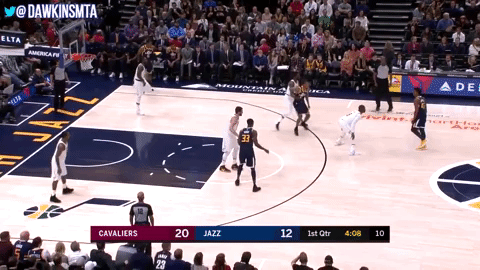 Utah has also utilized pick plays and handoffs to give Mitchell the runway to attack the basket. As soon as he sees the opening in the defense, he would attack the gap right away. On two separate occasions against the Pelicans, he utilized a handoff from Derrick Favors and a screen from Ekpe Udoh, both ending in a layup over the DeMarcus Cousins.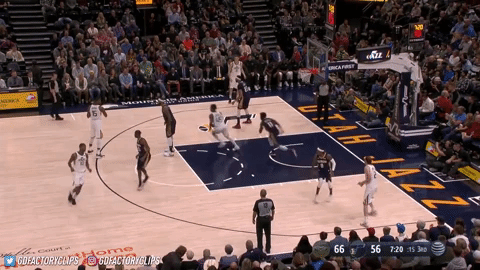 Aside from his driving ability, his proficiency in scoring 16 to 22 feet away from the basket (45.5% shooting) and decent shooting from deep (35.4 3P%) have been handy in setting jumpshots off the screen. On two different games, he used screens to free himself up and take a jumper.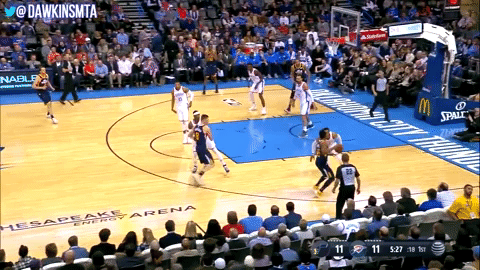 But perhaps, his skills are best utilized on the open court. With his speed and huge hops, he can blitz his way to high-flying dunks on the break. Take this sequence as an example.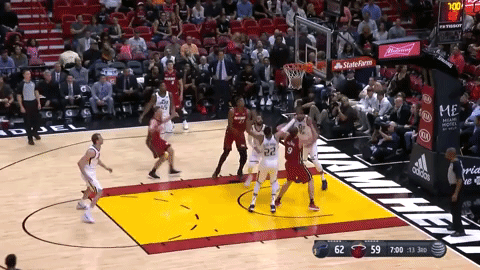 As a rookie, there are still lots of room for improvement for Donovan. His three point shooting, although hot at times, has been pedestrian so far. Also, because of his excellent ability to finish near the rim, he sometimes forces difficult shots. Defensively, his size poses natural disadvantage on defense, especially when up against taller guards. As such, he needs to tighten up his defense. The opponents' ORtg are actually better with him on the floor (107.0, against 106.2 with Mitchell off the floor).
But with the performance Mitchell is showing this season, it might be safe to say that he will be, at the very least, an impact player for the Jazz in the years to come. And who knows, maybe he's destined to be the league's next feel-good story—from being drafted outside the top 10 to becoming an NBA superstar.
Either way, Utah is goddamn lucky that Donovan Mitchell fell straight into its hands.
*photos from SLAMonline.com and Getty Images
*stats from Basketball-Reference.com