Last year, SLAM PH ran GET HYPED, our way of breaking down the upcoming NBA season. Back then it seemed as if the NBA went through an overhaul of sorts with all the changes that happened in the 2017 offseason.
"That's cute," said the 2018 NBA offseason.
LeBron left the East to join the young Lakers. That one move simultaneously opened up the conference for any takers, and turned LA into a sudden contender in the West. That was just the beginning. Kawhi was shipped North, Melo joined the Rockets and Boogie completed the Warriors' All-Star five.
The new NBA season is gearing up to be one of the most exciting and unpredictable ones in the history of the league. So, once again, get hyped! The NBA is back!
---
I used to believe in ghosts. As a kid, there were times when I checked  if me and my siblings' feet were tuck nice and neat within the borders of the bed that we shared. Just one toe outside, and I thought that some kind of Boogeyman might pull one of us out of the bunk and into abyss.
The fear was irrational, but it felt real.
Years passed, and I lost that feeling that used to keep me up at night when I was a child. I never encountered him, so there was no reason to believe that some kind of ethereal creature might snatch us out of nowhere. I finally realized that he only existed in my imagination.
For a long time, I never believed in the boogeyman again. He was a myth, a product of my imagination. That's what I thought, until Giannis Antetokounmpo did the unbelievable.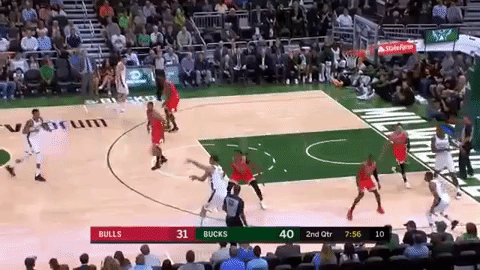 No, no, no. This can't be real.
I know that this is just the preseason. This is the time for the players to try moves that aren't really part of their arsenal yet. This is the time for coaches to experiment with the lineup. Everyone in the NBA can do crazy things without any repercussions for the upcoming season.
But, no. This is just a product of my imagination, right? This just can't be true.
I knew that the Bucks-Bulls game was just a regulated, glorified scrimmage in front of a huge crowd. The teams were not fighting for anything. Not for standing, not for prize money, not even for ice tubig like how streetballers do it here in the Philippines. Nothing. Call it a preseason game if you want, but it was what it was—a practice game.
Still, the image of Antetokounmpo swishing a three the way he did was truly terrifying. That was not just any other jumper. With the shot clock winding down, Milwaukee's main man took the ball 35 feet away from the basket, glanced at the timer, looked at his opponent, took one dribble to move a bit closer. Just when everyone wasn't expecting an attempt. He pulled up from beyond the arc.
Swish.
It wasn't a fluke. It certainly didn't look like it. All length and zero hesitation, Antetokounmpo performed a shot that he shouldn't otherwise. Suddenly, I felt like I finally witnessed the Boogeyman that I feared as a kid. He snatched a soul into the abyss. But the victim wasn't a three-foot child whose foot stuck out of the bed. It was his former teammate Jabari Parker, a grown-up man who dared to look right back at him and stand on his way.
It's not just that he can't shoot from beyond the arc, he doesn't have to. His otherworldly physique, combined with his unique skillset, allows him to get away with his subpar outside shooting. His lanky, seven-foot build overwhelms his smaller defenders with the size mismatch. Yet, he can leave bigger opponents biting dust from behind with his huge strides and speed. He's a rare physical specimen—a true freak of nature.
There's no wonder why he tends to take his shots almost exclusively up close or in the midrange, 87.9% of the time to be exact. That's where he's effective. He just doesn't have the knack and the need to shoot any farther than that. At least that's what I want to believe.
So no, this can't be real. This couldn't have happened.
But there he was, 35 feet away from the basket with the shot clock winding down. He glanced at the timer. He stared at his opponent. He took one giant stride forward. The next thing we knew, he already knocked down the triple with relative ease.
That's just unfair. Here's a player with a height that puts him at him at par with centers, quickness that can be compared to guards, and a finishing touch around the rim that puts most forwards to shame. His only perceived weakness is his jump shot.
Yet even without it, he's already a beast on the court. With it, who knows what he can do to the rest of the league.
I know this fear is irrational. There's just no way that Antetokounmpo could be that good already given a short amount of time. Not one shot can change that, no matter how natural it looked. Moreover, he still just shot two out of five from deep in the first two preseason games, close to what his usual self does.
But this fear is very real. I fear for the rest of the league.What if he really has that shot now? What if he has more horrifying stunts to show for the season? What if he's really one of those bogeymen that spooked me during my childhood days, but he only chose to terrorize people closer to his size? What if he goes after everyone, one jumper at a time, with those long arms and long threes?
If NBA teams can still sleep at night knowing that Antetokounmpo can shoot threes, remember that this same player can reach the rim while his feet is tiptoeing the ground. Now, try to block a jumper from that same standing reach when he starts pulling up in places and times that his defenders don't expect him to do as such. Think about it.
To make matters worse, Antetokounmpo is now playing with a coach that not only gives him the green light to shoot but actually aims to weaponize his outside shot. Mike Budenholzer is the architect of the 60-win, all-outside-shooting Atlanta Hawks. His mandate is clear, everyone on the team should be able to shoot. Look at what he did for Al Horford and Paul Millsap. Now imagine what he can do for Antetokounmpo.
Perhaps, the whole league should start tucking themselves neatly on their beds like how I did before.
Milwaukee's sneering, snarling Boogeyman with a jumper is coming for them.
Photos from NBA.com, stats from Basketball Reference
Get Hyped for the NBA
Midrange Melo versus the Rockets system
Exciting Rookies to watch in the upcoming NBA season
The Jazz's continuity is a weapon
Three Teams to watch (if you're breaking up with your current NBA team)
Collin Sexton can be the Cleveland's new Kyrie Irving
NBA City Edition Uniform Wishlist
Jayson Tatum is next in line in the NBA's circle of life
How Kevin Durant can be the best player in the world