If there's anything that the 2022 Golden State Warriors taught us, it's that we shouldn't take history for granted.
Three years removed from a devastating finals loss at the claws of the Toronto Raptors, the Warriors… well, they really didn't need to do much at the time. After all, there was no reason to be ashamed of that 2019 loss. When they won their first title of the century in 2015, many didn't think of it as the start of a new dynasty. LeBron James just got to Cleveland after all and almost won it all with half of Kyrie Irving, Matthew Dellavedova and Timofey Mozgov. The Los Angeles Clippers still had a shot of redeeming themselves from the biggest single-game choke job in playoff history, right? Plus, the two guys in OKC were still good. The Warriors was just supposed to be a one-title wonder.
The season after, Golden State immediately made sure to permanently stamp their page in the history books by holding the best single-season record in NBA history. 73-9. A hair above MJ and the '96 Bulls. Now, in social media circles, that team lives in infamy as the first squad to squander a 3-1 lead in the finals. 73-9 and they LIED, as some would say.
What does a team that literally set the best NBA season record do after losing the Finals? Like most teams, they simply retool. But for the Warriors, they retooled BIG, adding a generational scorer in KD to the ship to create the Hamptons 5. The result? Two titles, and it seems like a disservice to just say two titles without mentioning the manner in which the Warriors blasted everyone en route to the two-peat. They were an offense supremacist's wet dream, and an NBA defense's worst nightmare. They had an embarrassment of riches: three scoring savants from all aspects, a loud defensive anchor, and extremely reliable sixth men. They were, quite frankly, the best team that this generation has ever seen.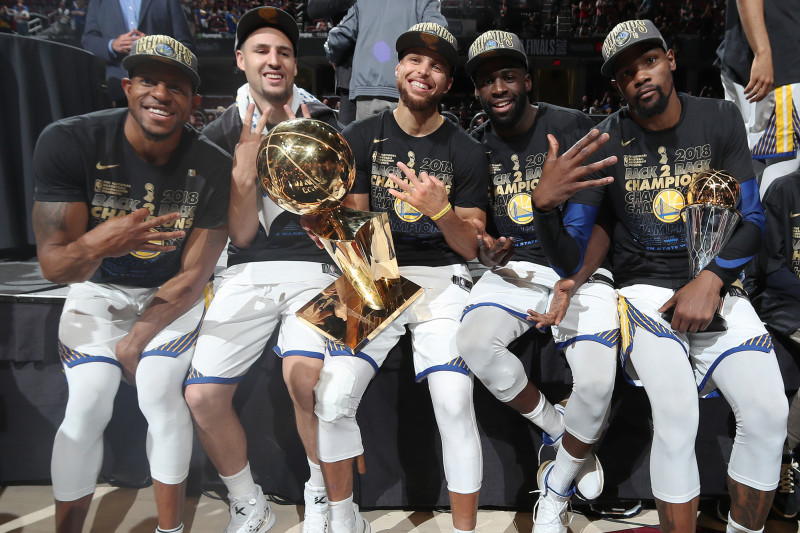 Which is why, going back to the summer after their loss in 2019 against the Raptors, there were little to no concerns on the Golden State of things. All they had to do was bring the core of Steph, Klay, and Dray back and healthy, find a way to re-sign KD (shouldn't be hard, right?), slightly reinvigorate the supporting cast, and get back to winning.
But as we mere mortals discovered, winning isn't as easy as the Warriors made it look. In the waning days of the 2019 NBA Finals, it was revealed that both Durant and Thompson suffered brutal, season-ending injuries that would keep them out for a year. Despite wanting to re-sign Durant to the max, the 2-time Finals MVP decided to go his own way and join the Brooklyn Nets. In the process, they had to let go of the ever-reliable Andre Iguodala to acquire D'Angelo Russell in a sign-and-trade with the Nets. From being in the high of the Finals, eventually, the Warriors were left with Curry, Green, a hobbled Klay, Russell who would never mesh chemistry-wise, and a hodge-podge of players we would never hear from since.
The Warriors would go on to post the worst record in the following season. Injuries to both Klay and Steph proved to be too big of losses that the rest of the team can take. The following year, with Klay still injured, the Warriors caught the short end of the stick in the inaugural play-in tournament, just missing the playoffs and making it two unconventional years without the postseason. From winning the title three years ago, the Warriors couldn't even win the play-in tournament. From then on, the whispers on the Warriors' decline became declarations of surrender. Draymond Green trade proposals were being thrown around. Steph couldn't win without KD, they said. Talks of blowing it up to make way for a Wiseman-Kuminga-Moody core were being raised. The discourse was all over the place.
The thing about history is that at its present, people barely recognize the moment. The social media age has ultimately diluted all forms of discourse with different kinds of information that make it difficult for people to sift through what matters and what doesn't. When the Warriors won in 2015, doubters pointed to the injuries to the Cavs. When the Warriors went 73-9, the focus went solely on their Finals loss, entirely disregarding a record set that will probably take another 50 years before it's beat. When the Warriors won back-to back titles in overwhelming fashion, the NBA's parity problem was exacerbated with KD going to the Bay. When the Warriors did all their winning, they were taken for granted.
When the Warriors went down 1-2 in the 2022 Finals after Game 3, the concerns reached title-level stakes. People started wondering whether or not Steph still had a lot left in his tank to carry this team. People started worrying if whether or not Klay was washed. Or Dray. People even started doubting the ever-steadfast Warriors management, questioning whether or not they should have made a trade deadline splash with, ironically, the Wiseman-Kuminga-Moody trio not getting Finals minutes. The very fabric of the Warriors' oft-dismissed dynasty was being sounded the alarms on.
But what people don't realize is that all those oft-dismissed rings that the Warriors won didn't go to naught. They've been in this exact same situation before, and they weren't about to roll over. "We're not going to overreact. We've been in this situation before," Klay alluded to their first title experience against the Cavs after the Game 3 loss. "Getting big 2015 vibes."
Since then, the Warriors never dropped another game. In Game 4, Curry posted one of the best individual performances in NBA Finals history with a 40-piece on 14-of-26 shooting with seven threes. Even with Curry struggling for his standards in the next match, Andrew Wiggins, Klay, and Gary Payton II pulled through with great two-way performances to win the pivotal Game 5. In Game 6, the Warriors came into the ever-so-intimidating TD Garden with a frenzied Boston crowd, got down early, but soon went on a historic 21-0 run with the help of everyone: Wiggins' defense, Klay's spacing, Looney's rebounding, Poole's confidence, Dray's energy, and Steph's overall mastery. They never looked back. They didn't need to; history was theirs for the taking, once again.
"For us, it's just about getting back to these moments and winning, and we know what that feels like, and ultimately we know what that takes," Draymond Green spoke on the feeling of a 4th title under their belt. "We know what that takes. And rely on each other and depend on each other. We rely on each other for what we are great at. And it still has not been proven when we hold that that anybody can stop it."
However, even after having already won three titles, Steph looks at his 4th title as something different from the rest. "When I say this one hits different, 2015 to 2019, it was kind of a steady climb to get into the championship, and whether you won or lost, you kind of just left it all out there," Curry reflected on the Warriors' climb back to the top. "Then you go to these last two years, and conversations, narratives, we're 'too old', the parallel timelines of developing young guys and keeping our core together. All those tough decisions that we had to make, that weights on you for as much time as we're going through out."
"Then you get to the finish line, and that's why I think this one is definitely different because of the three years of baggage we carried."
---
As the clock ticked down to the final seconds of the 2022 NBA Finals, with all but the sound of the buzzer formalizing another title for the Warriors, the broadcast zoomed to Curry struggling to hold back his emotions. An animated Steph on the court is not necessarily a blue moon—we've all seen his jovial celebrations, whether it's after a made three or a won title—but the uncommon scene of tears that we saw Steph hold back denote a unique, transcendental feeling to this title run.
"You get goosebumps just thinking about all those snapshots and episodes that we went through to get back here, individually, collectively. And that's why I said I think this championship hits different," the Finals MVP reflected on their road back to familiar ground. "It was definitely overwhelming. It was surreal because you know how much you went through to get back to this stage."
Ten years ago, Steph, Klay, Dray, and the Warriors were just beginning their ascent to relevancy. Now, multiple All-Star stints, a hundred plus playoff games, four titles, and an ongoing dynasty later, they're not taking their moment as part of the best team this generation has ever seen for granted. I hope you're not taking it for granted, too.